(New) Quad Sound Bass Pre Amp Ⅱ
(New) Quad Sound Bass Pre Amp Ⅱ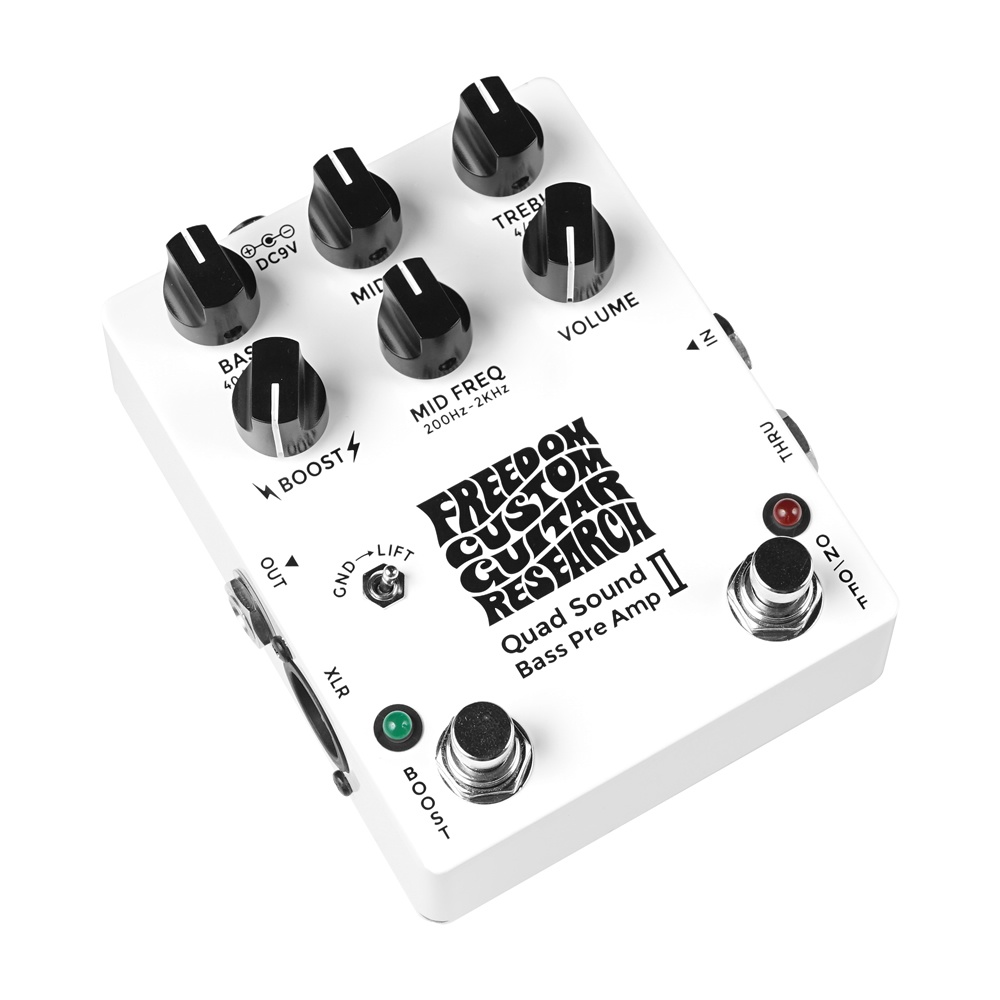 F.C.G.R.'s Quad Sound Bass Pre Amp has been a favorite in many scenes for many years by many bassists who want professional sound making.
The "Quad Sound Bass Pre Amp II" has added functions and sound variations that can support diverse music scenes and various performances.
【Features of Quad Sound Bass Pre Amp II】
● Even bassists of various genres & play styles can make accurate sound making with simple operation.
● The internal circuitry brings the 9v power supply up to 18v, giving you plenty of headroom and natural EQ control.
-Treble and bass controls can be switched between two frequency bands by DIP switches installed on the internal board
*Treble default setting: 6KHz ⇒ 4KHz (±22db), Bass default setting: 40Hz ⇒ 60Hz (±18db)
● The booster function using a high-quality buffer amplifier can be used alone.
● The GND/LIFT switch and THRU OUT have been added to make it possible to support a variety of situations, including live house performances and home recording.
● Equipped with an XLR output terminal that supports phantom power
・Input impedance: 1 MΩ 
・Output Impedance (LINE): 100KΩ, (THRU): 10KΩ, (XLR): 1KΩ
・ 9V battery and AC adapter are sold separately.
・ Product specifications and appearance may change without notice.
Specifications
Quad Sound Bass Pre Amp Ⅱ
MODEL NUMBER

SP-BP-03

TERMINAL

Input、Output、THRU、XLR、DC. Input (2.1mm / 9V center minus polar)

CONTROL

Volume、Treble (4KHz/6KHz ±22db)、Middle (±20db)、Mid Frequency (200Hz-2KHz)、Bass (40Hz/60Hz ±18db)、Boost (+15db)

SWITCH

On/Off Switch 、Boost Switch 、GND→LIFT Switch

SIZE

W94mm×D119mm×H34mm

WEIGHT

381g (Battery not included)

POWER

9VDC、Phantom Power

PRICE

Open Price

ACCESSORIES

Instruction Manual