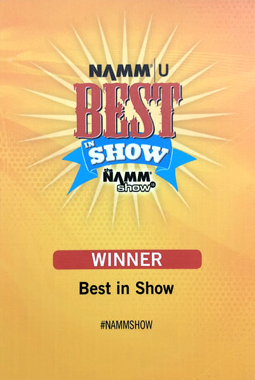 We are grateful for 2018 - and we are BACK!
It was a very sweet surprise, and a great honor, for us to win a "Best in show" award at NAMM 2018 - on the 20th anniversary of our company. Thank you so much for all your support: it has motivated us to enhance not only our product quality but also our service quality in order to meet your expectations. Throughout this year we have worked hard to produce ten exciting instruments for you to try - so please visit us, we welcome you!
SHOW LOCATION & HOURS
We welcome you to visit our booth and try our instruments at NAMM 2019 ! We will be in HALL D, booth #3850.
Anaheim Convention Center 800 West Katella Avenue Anaheim, CA 92802, U.S.A.
Thursday, January: 24: 10 a.m.–6 p.m.
Friday, January 25: 10 a.m.–6 p.m.
Saturday, January 26 : 10 a.m.–6 p.m.
Sunday, January 27: 10 a.m.–5 p.m.