For Jazz Bass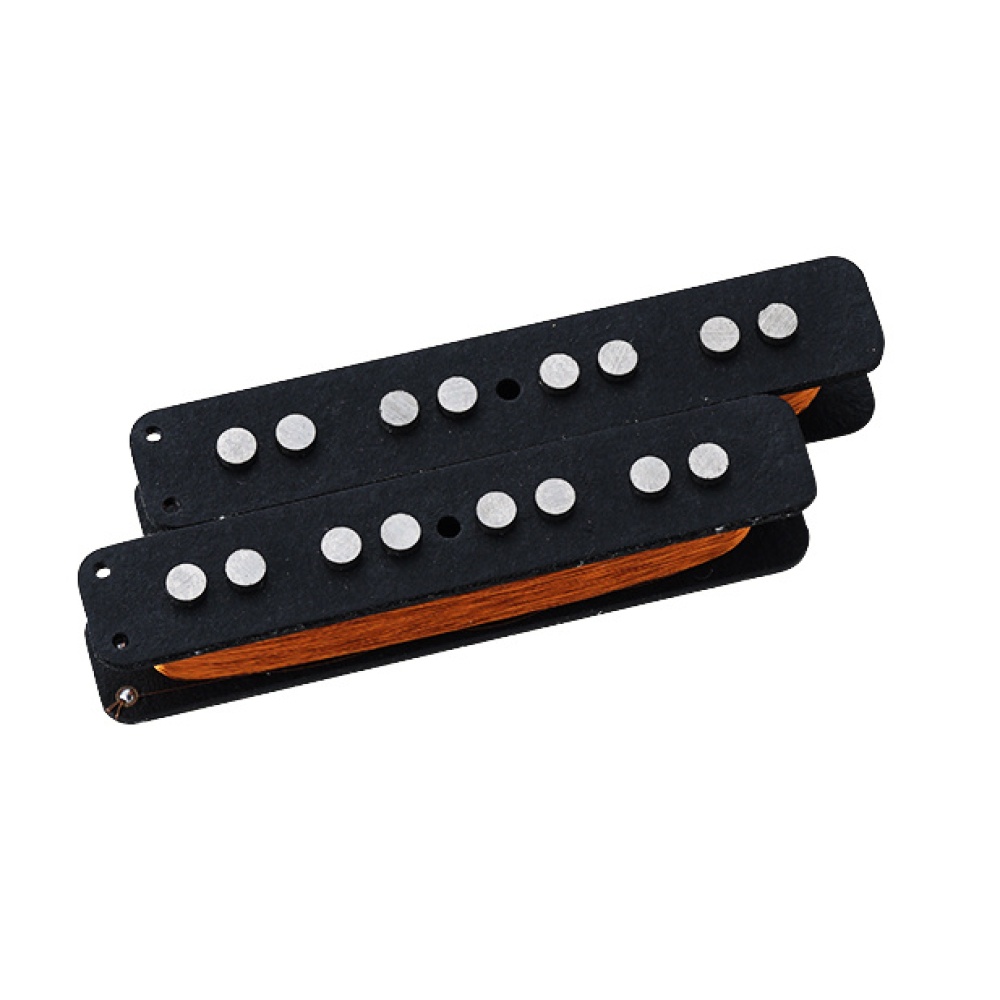 JB Vintage
A pickup which reproduces an even response from bass to treble, while using the JB sound-signature from the early 60's. The pickup is very responsive to picking up any expressive changes in your playing, invluding the slightest chagne in touch. This is F.C.G.R.'s standard vintage JB style pickup, which most directly reproduces the sound of your fingers on the strings.
JB Modern
This type of pickup was developed with the sound of modern ensembles in mind, which sometimes have digital instruments playing in the low register. Compared to the JB Vintage, this pickup produces low-bass output, while keeping the response and immediacy of other parts of the sound-spectrum intact. This makes it easier for a bass sound that is clearly distinct in the mix, and does not get drowned out.
Bell Bottom
The neck and bridge pickups in this set are wound differently, which allows for a different sound signature based on the relative volume of each pickp. With both pickups on full, the output has a punchy sound with moderate low-bass and a strong presence in the mix. Whatever the own character of the bass - vintage or modern - these pickups will bring out the instrument's own sound most fully, including the resonant character of the wood and the nuances of the player's touch.
We use MWS wire, Made is U.S.A for all our pickups.
Product specifications or appearance subject to change without notice.
"Jazz Bass" is a registered trademark of Fender.
Specifications
Bell Bottom (Neck & Bridge Set)
MODEL NUMBER

FPU-JB01

DCR

Neck:7.3 〜7.7KΩ

Bridge:8.5 〜8.9KΩ

MAGNET

ALNICO 5

WIRE

Heavy Formvar

PRICE (before tax)

¥36,000
JB Vintage (Neck & Bridge Set)
MODEL NUMBER

FPU-JB02

DCR

Bridge:8.3 〜8.7KΩ

Neck:7.3 〜7.7KΩ

MAGNET

ALNICO 5

WIRE

Heavy Formvar

PRICE (before tax)

¥36,000
JB Modern (Neck & Bridge Set)
MODEL NUMBER

FPU-JB03

DCR

Neck:7.3 〜7.7KΩ

Bridge:8.3 〜8.7KΩ

MAGNET

ALNICO 5

WIRE

Black Enamel

PRICE (before tax)

¥36,000
ACCESSORIES
ー

Instruction Manual

Mounting screw