2019/04/01
Coming soon...A six-string addition to the Dulake series (On sale from October 2019)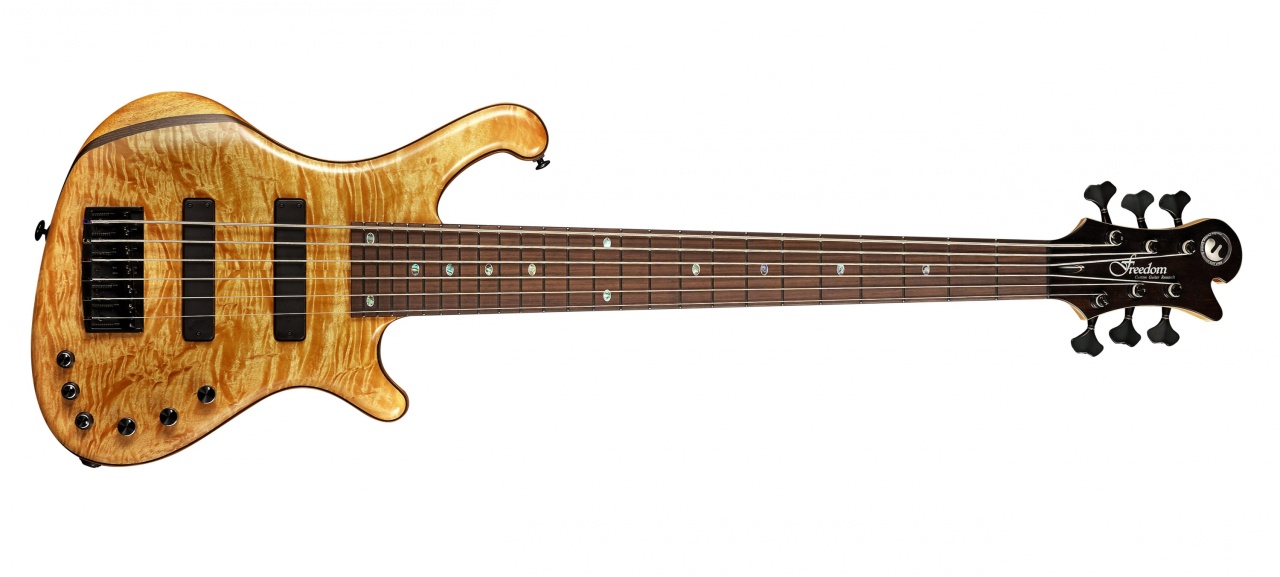 Our original "Dulake Series" instruments are modern basses that fit well into a broad range of genres and playing styles.
The outstanding feature of the new six-string is that it sounds extremely well balanced from the lowest bass to the highest treble notes - all the while retaining great playability. Due to the shape of the neck and the good body balance, this is an instrument that will be easy to play even for bassists who mainly play on 4-string instruments.

*The image shown above is from a prototype. The finished design and specification may differ slightly.
BODY & NECK
● To obtain a rich and clear sonic response, we use mahogany in both the body and the neck of this bass. This material also has the appropriate characteristics to give the bass a good balance for comfortable playing.
● The neck is reinforced with KTS (titanium) bars in the upper register to enhance stability, and to further bring out the sound of the bass.
● An updated design of both the body and headstock, to accommodate the 6th string.
STRING SPACING
The string spacing at the bridge is 18mm, and the bridge is made by Gotoh (model number 303BO6). We have adopted this spacing to make the 6-string instrument easily playable for 4- and 5-string players.

CONTROL
We have designed an original 3-band EQ (Treble/ Mid/ Bass) to allow for on-board tone shaping, and adjustment of balance between high and low pitched strings.
PICKUPS
We have developed a custom humbucker pickup for this model, with the specific aim to give an even response from across all the strings, from low-B up to high-C.
【 HOW TO ORDER 】
● Online orders can be placed through the following dedicated page:
https://global.fcgrtokyo.com/ja/custom-order,dulake-flat-6st.html
● If you wold prefer to fill in a printed paper copy of the order form, please send it to us either by E-mail or fax:
・ E-mail: info@fcgrtokyo.com
・ FAX 03-5855-6278
* The printable order form is available as PDF file at the bottom of this page.
* At the moment, we are only collecting orders for a "Standard style" variant of this bass.
* We are planning to start collecting orders for "Custom" and "Full order" style specifications from next year on.
● Scheduled to start shipping: from October 2019, in the order in which the orders were received.
* The delivery date will vary depending on when you placed your order.
COLOR CHART
The following colors are available for selection in the "Standard Grade Maple Top" (the basic specification for this bass).
for Maple Top Colors

* The above finish samples are shown as painted on Premium Grade Maple
* The actual finish will differ slightly, depending on the grain and shade of each individual piece of wood
Freedom Drops

* The above finish samples are shown as painted on ash wood
* The actual finish will differ slightly, depending on the grain and shade of each individual piece of wood
響 - Hibiki -


* The above finish samples are shown as painted on ash wood
* The actual finish will differ slightly, depending on the grain and shade of each individual piece of wood
The Hours
* The above finish samples are shown as painted on ash wood
* The actual finish will differ slightly, depending on the grain and shade of each individual piece of wood
Traditional
* The above finish samples are shown as painted on alder and ash woods
* The actual finish will differ slightly, depending on the grain and shade of each individual piece of wood
Downloads