Nitrocellulose Lacquer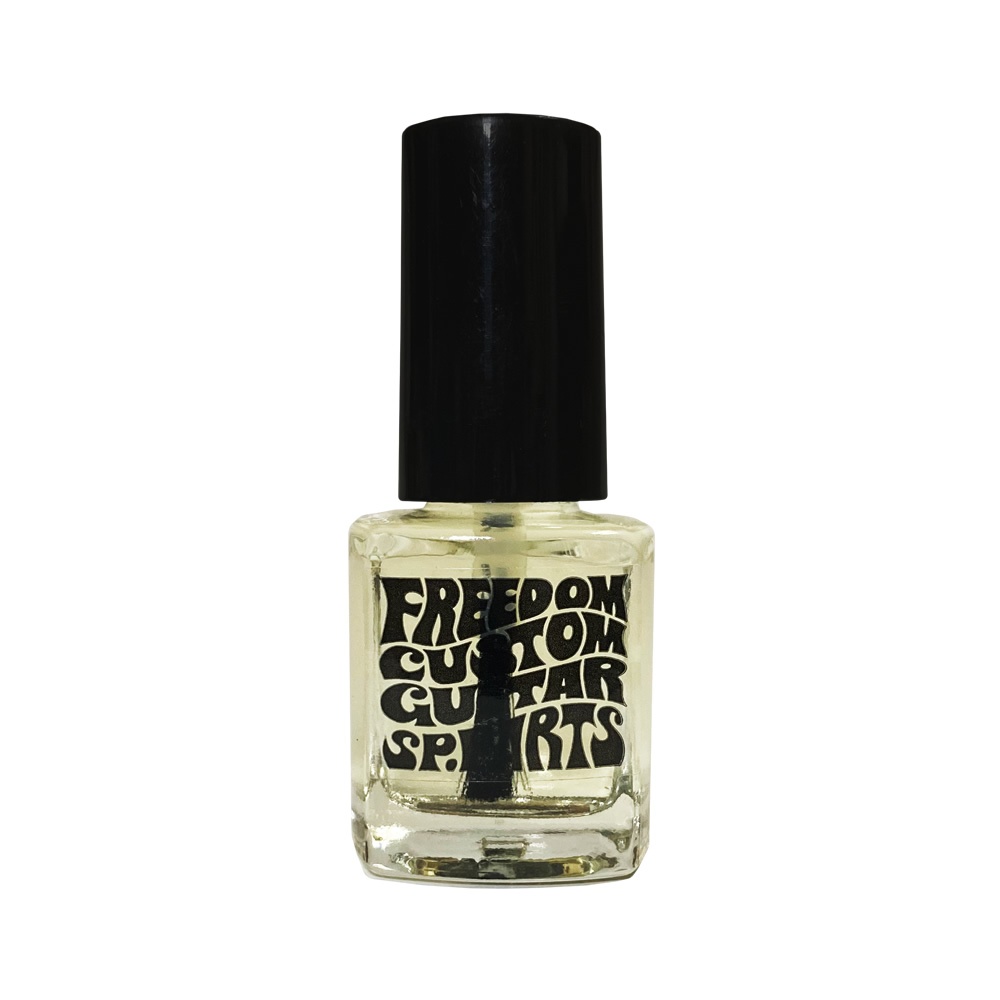 Lacquer for protecting exposed wood surfaces
This lacquer is similar to the nitrocellulose lacquers used on vintage instruments. It comes in a small bottle with an applicator brush, which makes small touch-ups easy.
By using this lacquer to seal up dents or scratches, you can prevent dirt and moisture from damaging the wood in your instrument.
How to use
Be sure to read instructions that come with the product.
After removing moisture, dirt, oil, rust, wax, etc. from the surface you want to coat, apply the lacquer to the scratched surface.
There may be situations in which a simple touch-up of the finish is insufficient; consult with your local instrument shop or luthier.
If applying this lacquer in spray form, you will need to dilute it (for example by using an appropriate kind of paint thinner).
Application of this product may soften or melt the original paint.
Please apply to a small inconspicuous area first, before applying on a more visible part of the instrument.
Applying the product on a large surface area simultaneously increases the likelihood of bubbles forming, and extends the drying time. Please apply in small amounts, step-by-step. As an approximate guide, an area of around 0.5mm in diameter will take 4h to dry.
Specific drying time will depend on temperature and environment humidity.
Avoid the use of forced drying techniques such as direct sunlight or high temperature air (this will increase likelihood of bubbles).
If you are fixing particularly small scratches, we recommend using a toothpick instead of a brush.
Do not use for purposes other than those intended.
Use in a well-ventilated area, and far away from fire.
Do not swallow.
F.C.G.R. bears no responsibility for the instrument during, or after application.
In case you encounter problems with the application of this product, we are happy to assist with repairs (subject to an appropriate fee).
First Aid measures
In case of skin contact, rinse immediately with clean running water and consult a doctor if you encounter discomfort.
In case of contact with eyes, rinse immediately with a large amount of running water (for at least 15 minutes).
If swallowed, please immediately contact a doctor for medical assistance.
Storage
Keep out of the reach of children.
Avoid direct sunlight. Keep the closed container in a cool dark place, with good ventilation.
Keep away from fire.
Product specifications and appearance may change without notice.
Specifications
Nitrocellulose Lacquer
MODEL NUMBER

SP-P-15

PRICE (before tax)

¥2,200

VOLUME

6ml